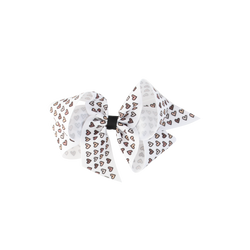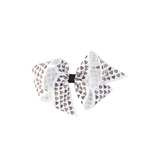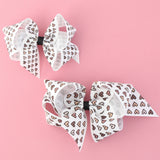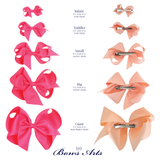 Our Big (5 in.) grosgrain bow in an exclusive hand drawn heart print on a clip. The various skin-tone shades in this bow represent the diverse and wonderful people in this country. Help your little girl celebrate love and diversity with this bow which are at the very core of the Bows Arts mission.
For each Diversity Heart bow sold, we will donate $5 to an organization of your choosing from the list below. These organizations support diversity and helping others while also furthering women and girl focused initiatives.
The Girls Opportunity Alliance, a program of the Obama Foundation, seeks to empower adolescent girls around the world through education, allowing them to achieve their full potential and transform their families, communities, and countries. We engage people around the world to take action to help adolescent girls and the grassroots leaders working to educate them.
Loveland Foundation is committed to showing up for communities of color in unique and powerful ways, with a particular focus on Black women and girls. Our resources and initiatives are collaborative and they prioritize opportunity, access, validation, and healing. We are becoming the ones we've been waiting for.
RefugeeOne creates opportunity for refugees fleeing war, terror, and persecution to build new lives of safety, dignity, and self-reliance. ​
Every year, RefugeeOne serves more than 2,500 refugees and immigrants of all ages, ethnic groups, faiths, and backgrounds. Our primary focus is to assist these resilient individuals in becoming an independent, self-supporting member of their new community.
Room to Read seeks to transform the lives of millions of children in low-income communities by focusing on literacy and gender equality in education. Working in collaboration with local communities, partner organizations and governments, we develop literacy skills and a habit of reading among primary school children, and support girls to complete secondary school with the relevant life skills to succeed in school and beyond.
Classic Grosgrain Bow Size Guide
Sheer Organdy Bow Size Guide