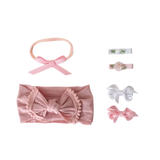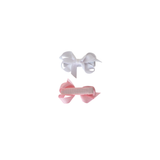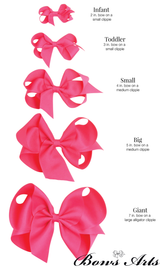 Baby's First Bows
SKU: NEWBABY1
The perfect gift for a newborn baby girl!
Send your loved ones our Baby's First Bows Box that includes all of the basic styles to get a little girl's bow collection started. 

The Baby's First Bows Box includes this perfectly curated selection of our most popular baby bows and headbands.
White Infant (2 in.) Grosgrain Bow on Grippie Clippie 
Light Pink Infant (2 in.) Grosgrain Bow on Grippie Clippie 
White Rosette Grippie Clippie

Light Pink Sequin Flower Grippie Clippie
Light Pink Grosgrain Shoelace Thin Nylon Headband
Mauve Wide Nylon Baby Headband with Pom Fringe
Classic Grosgrain Bow Size Guide
Sheer Organdy Bow Size Guide